More info
---
ThermoCut Multiwire PRO 300 MAX
THERMOCUT is a computer-controlledcutter which uses a titanium wire heated to a very high temperature (approx. 800 degrees Celsius). Hot wire technology allows to cut through many different types of foam. The digital control of working parameters with the possibility of creating your own material libraries result in cutting shapes with unique precision. Wide range of available finishing techniques allows to create illusion of different materials. Completed projects are well looked and not expensive.
With THERMOCUT you can cut any spatial object through different types of materials with density up to 60 kg/m3 and allowed to receive heat treatment like polystyrene, styrodur, polyurethane foams etc.
The practical application of THERMOCUT foam cutters
Advertising
large format and wide format outdoor advertising

decorative letters and trademarks

trade graphics

logos

trading post stand
Architecture:
entrance features, portals,collonades

cornices and keystones

corners and columns

decorative features

interior design

scenography features (film and theatre)
Others:
casting molds

packaging

furnitures

pipe coverings

acoustic scrrens

designinig and modeling
Advantages:
possibility to create specific spatial project with unlimited size

finished items can be set on almost every surface type even glass

high resistance on atmospheric conditions

wide finishing materials and colours selection

low production cost

quick device repayment
Standard equipment:
multiwire cutter

electronic controller

wire supply: 6 rolls of resistant wire

control software SoftCUT

user manual

rotary table (optional for plotters: Pro35, Pro240 and Pro300)

shape wire adapter (optional on plotters: Pro35, Pro240 and Pro300)
Optional equipment:
operators panel with LCD

automatic wire tensioner

additional cutting wires
Construction:
Element tensioning wire is stepper motor co- working with the spring tensioner through the closed-loop feedback system.
Properties:
LCD operator panel: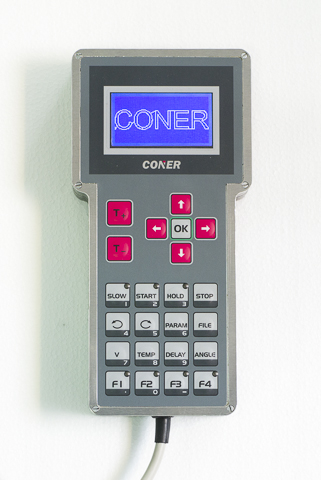 An innovative approach to work on a thermal plotter.
It provides the functionality of a PC with control software in a small handy housing.
---
Optionally, the plotter can be equipped with inclined cutting heads.
The solution is dedicated to companies that, in addition to cutting out styrofoam moldings, have the task of cutting into slices.
The technology of bevelled wires prevents the plates from being damaged by the falling material when all wires are removed from the material at the same time.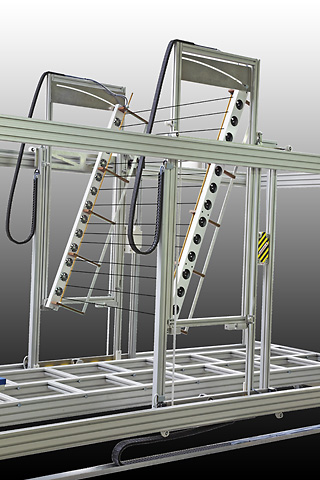 ---
The multi-wire plotter can be additionally equipped with belt conveyors and vertical cutting wires
creating a universal line for cutting and formatting styrofoam blocks.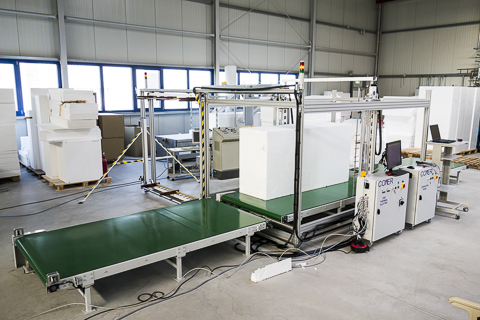 SoftCUT Control Software
Hardware Requirements:

Minimum: Pentium, 256 MB Ram, Windows XP/ Vista

Basic Functions:

HPGL and DXF file format support - 2D projects
RAW file format support - 3D projects
Automatic objects merging, and figures lines ofintersection determining
Cutting figures with simultaneously segements assigned
Foam cutters manual controling for X and Y axes
Table rotation manual controling
Possibility of defining different proccesing configurations
Resistant component usage warning system
Cut simulation and preview
Projects scaling
Duplicating project
Cutting mode "perspective")
Irregular solids of revolution (3D) creation using cutting projects - possibility of loading drawings with rotation's angle definition between particular profiles cutting
3D project preview
The ability to continue the cutting process after the cutting wire has been severed

Additional Software:

Any program with HPGL or DXF files export function (f.eg. CorelDraw or AutoCAD)
3D modelling application (f.eg. Rhino3D, MadCam)
TECHNICAL SPECIFICATION:
| | |
| --- | --- |
| Model | PRO 300MW MAX |
| X workspace (lenght) | 300 cm |
| Y workspace (height) | 120 cm |
| cutting wire length | 300 cm |
| resistant wire diameter | 0,35 mm |
| forming wire diameter | 0,9 mm |
| adressed resolution | 0,01 mm / 1mm |
| max. shift speed | 2000 mm/min |
| max. working speed | 1000 mm/min |
| resistant wire cooling | 28 cooling fans |
| number of stepping motors | 6+1 |
| cutter construction | reinforced aluminum profiles |
| power supply | 230-400V/50Hz |
| power consumption | 4 kW |
| interface | port USB |
| forming wire | option |
| revolving table | option |
| lathe | option |
| independent arm motion "perspective" | no |
| size | 3600x3400x3100mm |
| Weight | 330 kg |
38200